Her Majesty Queen Elizabeth II 1926-2022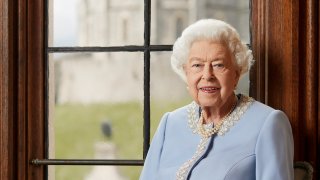 With all of you we want to express our deep sadness on hearing the news of the death of Her Majesty the Queen on 8th September.
She was an inspiration to us given her years of faithful service to our country, and her desire to do her duty and put others before herself. But as followers of Jesus we remember best of all her wonderful faith, so often at the centre of her broadcasts at Christmas and other times.
During a special Easter broadcast at the beginning of the pandemic, the Queen said
"As dark as death can be — particularly for those suffering with grief — light and life are greater. May the living flame of the Easter hope be a steady guide as we face the future."
Let's make her prayer our own as we grieve our wonderful Queen.
Join us to remember at 10.30am at Stoke on Sunday 18th September - or watch live or later below: (Service sheet here)
You can watch a short Act of Remembrance which was part of our service on 11th September here: (Click for service sheet)