Giving to our churches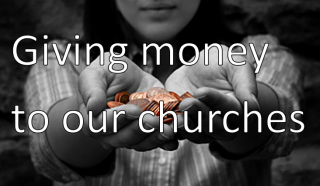 This section of our website is called "What We Do", and when we follow Jesus, giving to his church is what we do. Of course we give to Jesus's church because he ask us to, and because the church has things to pay for, but most of all we give as our joyful, sacrificial committed response to Jesus's joyful and sacrificial commitment of his life for all of us. However much we give we can never outgive Jesus, so that's not really the point. It is joining in an adventure of faith he is calling us into.
The the best way to give to our churches is through a regular commitment by bank transfer, especially at the moment when it is hard to give at services in person. There's no fees for anyone if you give through the bank, and it helps us to budget. To do this, contact the treasurers for
(just click on the name of the church you want to give to.) Contact them if you'd like to consider leaving a legacy to one of our churches as well.
If it is easier for you to give a one-off gift online to our churches you can do that by scanning or clicking on one of the QR codes below. Bear in mind if you do this that
The provider makes a small charge for the transaction so we don't see all the money
It goes direct to the Diocese to pay some of the ministry costs they ask us for, so it isn't as easy for us to budget for
It's harder for us to find out who gives in this way, so we can't always say thank you to people
For these reasons we don't recommend it for large or regular gifts, but if in your circumstances it's the easiest way for you to give to our churches, please do make use of it.
| | | |
| --- | --- | --- |
| Arminghall | Caistor St Edmund | Stoke with Dunston |
| | | |