Vision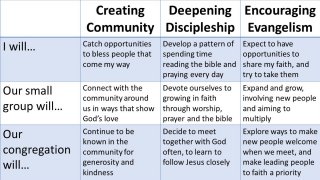 DOWNLOAD OUR 2017 ANNUAL REPORT IN THE RESOURCES SECTION ABOVE!
Since summer 2016 we have been developing and launching this new vision for the years to come in our group of churches, inspired by the diocese's challenge that we continue to grow in Discipleship, Service and Numbers. We have formed three groups from within the PCCs to look at our growth in Community, Discipleship and Evangelism, and we have established some big, exciting aims for our growth as a group which we are looking forward to God leading us into.
The Community group wants to see the life of the church at the heart of our village communities again.
For Discipleship we would like more and more of our members to be part of a small group, and to be excited about growing in bible reading and prayer, and in playing our part in the body of Christ.
The Evangelism group would like to see the churches grow to 100 people who are excited about sharing their faith and involving new people in the life of the church.
These big aims will take a lot of prayer, and a fair bit of work, which is best achieved one step at a time! We will continue to update you on our progress on this website and in lots of other ways.