Rob's message for May
Posted: Thu, 28 Apr, 2022 (3 weeks ago) - by Rob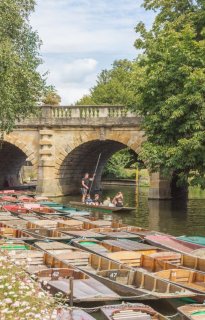 Welcome then to May, normally a month of many bank holidays, although of course this year slightly fewer, given that the one at the end has been pushed into June as part of the Jubilee celebrations. There'll be more of that next month.
Mayday is an important one for me. My sister's birthday is on 1st May, and she made sure we remembered that, and now also my sister-in-law's. (She's not as bothered!) I lived in Oxford for a while, and over there May Day is big business, with choristers singing from the tower at 6am, Morris dancers everywhere, the pubs open at breakfast time, and students attempting to jump off the bridge into the river, if the police couldn't stop them.
Given this dangerous activity, it would hardly be surprising if that's how Mayday became a distress call as well. It was certainly a dangerous day in Oxford. But I knew where it actually came from, because I remembered hearing about it on an old episode of the comedy Red Dwarf:
Mayday, mayday. I wonder why they call it "Mayday".
Eh?
The distress call. I wonder why it's "Mayday". It's only a bank holiday. Why not Shrove Tuesday or Ascension Sunday? Ascension Sunday, Ascension Sunday. 15th Wednesday after Pentecost, 15th Wednesday after Pentecost.
It's French, you doink! "M'aidez" - "Help me". "M'aidez"
Let's leave aside the question of whether a TV sitcom is the best place to learn French, and focus on the call itself: "Help me."
It's not always easy to ask for help. I particularly struggle with this when I am in a big shop looking for something. The quickest thing would be to ask someone, but for some reason I prefer to wander up and down the aisles for minutes on end, until I find it. I can get away with this if I am on my own, but not if I am with my family, because they think it is ridiculous. I mean, it is ridiculous.
It can feel like there is a lot to lose in asking for help. I'm admitting I can't do it all myself; that I am weak and imperfect and insufficient to the task. When I ask for help, I am making room for other people, but most of all I am making room for God.
The bible is full of people like you and me who make loads of mistakes, but the one thing most of them get right is asking God for help. They realise they can't help themselves, can't save themselves, often can't even make the right decision when it's staring them in the face, but they know to ask God for help.
That first May when I lived in Oxford was remarkable for all the Mayday shenanigans, but the real reason I remember it is that it was the first time I really asked God to help me, to save me, to forgive me. It was certainly not the last time, but it was the first, and I'll never forget it. With the fear of heights I've developed since then I can't imagine singing from a church tower, or jumping off a bridge, and I was never one for beer at breakfast time, but I'm not going to stop asking God for help. It changes everything.
Back to top of page