Christmas 2021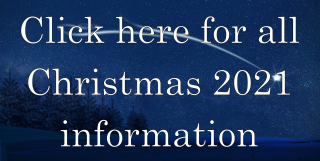 We'd love you to join us this Christmas! There really is something for everyone, as we celebrate Jesus: Love come down.
From Sunday 12th December, we have 3 great carol services, featuring singers from Stoke Holy Cross school and our own community choir. We strongly recommend that you book a ticket HERE to join us at any of the following services. (There may be space if you come without booking but we can't guarantee that as we do need to limit our capacity.)
Sunday 12th December at 10.30pm at Stoke
Sunday 12th December at 6.30pm at Arminghall
Sunday 19th December at 5pm at Caistor
You also need to book HERE to come along to our Crib Service on Christmas Eve at 4.30pm. We will make an extra service available if this one fills up really fast.
You can also join us without booking at our service of Carols, Readings and Communion at 11.30pm on Christmas Eve at Caistor St Edmund, and our Christmas Day service at 10.30am at Stoke Holy Cross.
There is no service in the group on Boxing Day, but there is a group service at Caistor at 10.30am on Sunday 2nd January.
Look below for any live streams of services, or videos that we have recorded earlier.