Weddings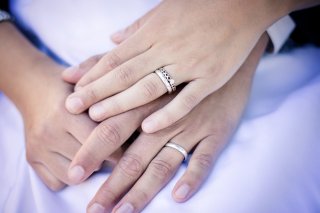 In our churches we celebrate marriage as an amazing gift from God, which strengthens the relationship between a couple, and is a wonderful blessing for the whole of society. Surveys consistently show the value of marriage as a way of life together.
It is now easier for us to say yes to people asking us to marry them, because in recent years the Church of England has broadened the guidelines for who can be married in one of our churches. This means lots of people with family connections to the village and the church are eligible to be married here, so please ask. Most people, of course, approach us for marriage because they themselves live on or grew up in the villages.
We are often asked about the marriage of people who have been divorced before. The Church of England allows for the marriage of people previously divorced from a person still living in exceptional circumstances. We are always happy to discuss the possibility of remarriage with anyone who would like to inquire - this does involve a number of open conversations with one of our ministry team involving both of you. 
To get in touch about a wedding please call us on 01508 492305.