Christmas 2020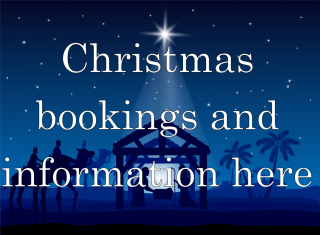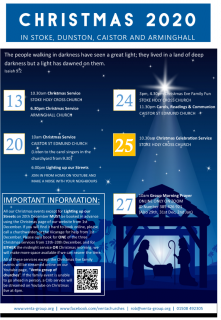 Not long now! It feels like a Christmas like never before this year, but there is also an opportunity like never before for all of us in our communities to see Jesus's light coming into our darkness. We hope not much is subject to change, but here's a little overview of our plans!
YOU MUST BOOK TO ATTEND ANY OF OUR CHRISTMAS SERVICES FROM 13TH TO 25TH DECEMBER IN PERSON. BOOKINGS ARE AVAILABLE ONLINE ONLY NOW: CLICK HERE OR USE THE CALENDAR BELOW.
All our services except the Christmas Eve afternoon event will be live on our YouTube channel and streamed on this page. Prayer meetings from 27th December will be on Zoom using the ID number 385 426 921.
Christmas services are on 13th December at Stoke at 10.30am (more family feel) and Arminghall at 6.30pm (traditional readings and carols), and then on 20th December at 10am at Caistor (carol singers in the churchyard from 9.30)
On Sunday 20th December at 6pm there's no need to book as we invite everyone from our villages to come out of the house. We're going to be Lighting up our Streets by standing on our doorsteps, holding a light of some kind, and joining in with carols, readings and more on our YouTube channel "Venta group of churches", again streamed here. We'd love you to be part of this and if you have a speaker of some kind so you can broadcast along the road for the benefit of your neighbours who might not have the internet, that would be even better.
We will be serving tea to a number of our residents on Thursday 17th December by home delivery, including a CD or DVD of carols and things for that afternoon.
On Christmas Eve we will be running two bookable family sessions at 3pm and 4.30pm. In case of high demand we will try and do some more of these. If the lockdown extends, which looks unlikely now, we will put a crib service up here and on YouTube at 4pm on Christmas Eve.
Our late service at Caistor at 11.30pm on Christmas Eve, and our Christmas morning service at 10.30am at Stoke, will be both in-person and live-streamed.