Join us online!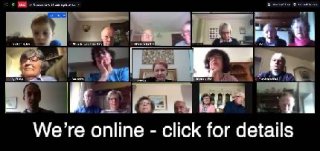 Update for August 2020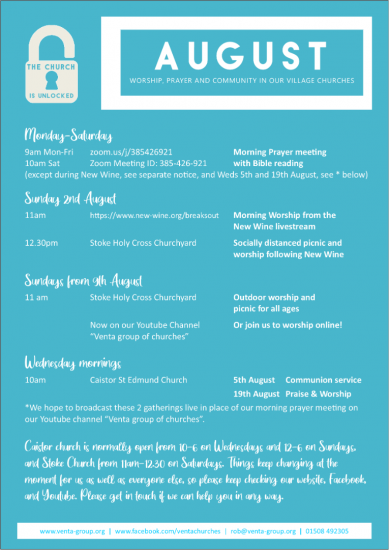 Hello everyone! There is loads of great stuff going on this month, all of which you can find out on the poster below. Underneath the poster is loads more information, links to click on to access services and meetings, and so on. 
For Prayer meetings 9am Monday-Friday and 10am Saturday click on PRAYER (but please note no prayer meeting on 5th or 19th August.
To watch our services from Caistor on Wednesdays 5th and 19th August at 10am click on WEDNESDAYS. You can catch up and watch our most recent service below.
For our Sunday morning 11am recorded service click on SUNDAY
Click on YOUTUBE for our channel which includes school assemblies, and other bits of video. You can find videos of all our services before August on FACEBOOK.
Your church is open and here for you. 
At the moment you can access the building at Caistor to pray on Wednesdays from 10-6 and Sundays from 12-6, and at Stoke on Saturdays from 11-12.30.
We are joining with dozens of people around the villages to put a note through our neighbours' doors offering help if we feel able to provide it - essential food runs, medication drops, someone to talk to on the phone or over the fence! If you do not have access to help of this kind please get in touch with the Vicarage - rob@venta-group.org,
You can also call 01508 492305 or 07855 774384.
At the Vicarage we have a small amount of long life food we have collected through our local foodbank scheme. This is available for collection for anyone who needs it on the Vicarage doorstep in daylight hours. Please be careful to reduce the risk of virus transmission before and after handling these items.
Please email us if there is something you would like us to pray about when we meet together: rob@venta-group.org You can find lots of information by clicking on 'Resources' above. You will find quite a few subsections so here is some help:
We are sending out regular email and Facebook updates, and uploading some videos to youtube. Our Facebook and Youtube channels are both called 'Venta group of churches'. We will try and embed some of those videos in this page. If you would like to receive email updates from Rob, the Vicar, and you are not getting them at the moment, please subscribe by clicking on the word HERE. We have to do this for data protection reasons.