Trailblazers Holiday Club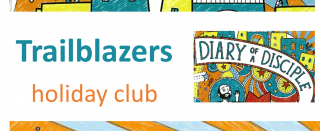 We are excited to be getting ready to welcome your children to Trailblazers Holiday Club, at Stoke Holy Cross School from Monday 25th - Wednesday 27th July from 10am-3pm.
Trailblazers is open to all children at primary school this summer term 2022, and will feature lots of games, crafts, sports, quizzes and much more, with zany presenters, lively music, Bible stories and drama. We would also love to have any older children who would like to join in as young leaders: please complete a form for them as we need to register everyone under 18, and we will see from their date of birth that they are participating as a leader. We are sorry that we cannot include any children who are not yet at primary school, but we look forward to seeing them soon!
At the end of the club we will be celebrating everything we have been doing through the week with a session for the whole family from 3-4pm on Weds 27th, where all parents, carers, and older or younger children are welcome to come along and join us to see what we have been up to. We will write with more details when we receive your form, but we hope you can all join us then.
If you would like your child to join us as at Trailblazers please click here and complete this form by 8th July at the latest. We have a limited number of spaces so that we can make sure that we look after your children really well, so please do reply soon to avoid disappointment!
We don't make a charge for the event because we want everyone to come regardless of their circumstances, but any donations towards the cost of running the club would be very welcome. These are only to cover the running of the club – all helpers give their time for free and any surplus would be reserved only for holiday club use. We would especially appreciate any donations you might be able to make in advance of the event, and cheques can be made payable to Stoke Holy Cross with Dunston PCC, or by BACS transfer:
Stoke Holy Cross Parochial Church Council  Sort Code:  20—62—53  Account Number: 00865680
If someone in your household is a UK tax payer, we can claim additional revenue if you complete the Gift Aid part of the form.
If you have any questions, please contact the church office on admin@venta-group.org or 01508 492305. 
See you there!