Worship with us online!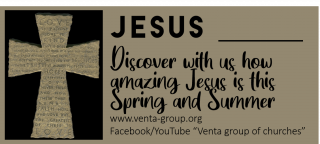 July 2021
*We are meeting in person as well as online from now on and you can find out where and when by clicking on Worship at the top of this page*
Please continue to join us here on Sunday mornings for our fantastic new series of sessions thinking about all the amazing things that Jesus is. Our online services will appear below, or click for our YOUTUBE channel. That's a good place to look for services from Easter 2021 and earlier as well. If you look around on this website you can also find links to daily prayer meetings, LightHouse family sessions, and so on, so please do have a look around, and contact us using the message function at the bottom if we can help with anything.
If you would prefer to watch with us on Zoom, you can connect by clicking HERE or using ID number 706 580 961 in the Zoom app.
Our next services are on Sunday 18th July at 9am at Caistor and at 10.30am at Stoke Holy Cross. We're carrying on our brilliant series about all the things Jesus is.You can join us in person, or watch it on YouTube below, and scroll down further for the last few in the same series (and our special one-off services on Stewardship, and for Pentecost):