Daily prayer meetings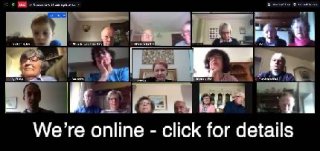 It's been such a privilege throughout the coronavirus pandemic to join together every morning to pray for the world, the church and each other, to hear from the Scriptures, to join in the occasional hymn or song, and to find hope and encouragement in a time which has been dark and diffiicult in lots of ways.
Between Christmas and New Year 2020 we are meeting 27th, 29th, 31st December and 2nd January at 10am. From 4th January we are continuing to meet daily from Monday-Friday at 9am, and Saturday at 10am, and we'd love you to join us on Zoom by clicking here - https://us02web.zoom.us/j/385426921 - or by using the Meeting ID: 385 426 921 in the Zoom app. Over this period we are reading through 1 John together.