Join us for the Bible Course, Wednesdays from 7.15pm!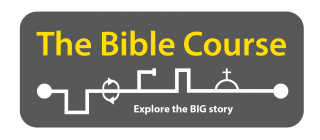 Whether you are brand new to the Bible or very familiar with it, excited to get stuck into the Scriptures or a little bit lacking in enthusiasm, we think you will love the Bible course. It takes a look at the whole Bible over 8 weeks, and invites us into the big story of God's plan for the whole of human history. We'll start at the beginning, end at the end, and do a whole lot more in-between. Why don't you catch up with what you've missed using the links below?
Episode 1:
Episode 2
Episode 3:
Episode 4:
Episode 5:
Episode 6:
Episode 7:
Episode 8:
Answers to a few questions...
Do I have to just sit and watch the vicar talking all evening? No! The course consists of some video clips which we will all watch together, and then everyone gets to join in with some discussion questions. It will work best if we all do the same amount of talking!
I miss my home group. Can I catch up with them somehow?

 

Yes! We'd love all our homegroups to join in, and if there are enough of us joining in we can use Zoom to split you down to existing groups to talk together, and to catch up and pray at the end. We'll add new people in to existing groups or create new ones depending on numbers.
Is there material I can use to help me in between the meetings?

 

Yes, as part of each week we will offer you some things to read every day until the next session so that you really get into the habit of reading the Bible for yourself, and experiencing God speak to you in this way, over the next couple of months.
Do I have to know lots about the bible?

 

No, it is designed to provide a bible overview to inspire people to start reading the bible, and encourage others to pick it up again or keep going deeper.
Is there a course handbook?

 

Yes, we have uploaded a printable course handbook to our website

 

here. If you would like to buy printed copies for you and your friends (£4.99 each) click

 

here.
Will there be coffee and biscuits and stuff?

 

We may just be able to meet together towards the end of the course, depending on the lockdown, but for now we are afraid that we have to meet online, so no, you will need to sort out your own biscuits.
Sound good? We think so! Click HERE from 7.15pm on Wednesday to join the meeting.