Rob's message for October
Posted: Tue, 27 Sep, 2022 (6 months ago) - by Rob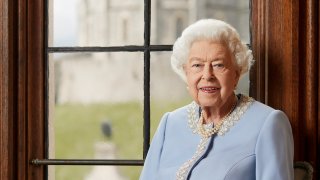 We all knew the day would come when the Queen wouldn't be there, but somehow we didn't quite expect it, did we? Part of that was that it seemed to come quickly, with her meeting prime ministers old and new on Tuesday, and dying on Thursday. But more of it must be that most of us can't remember a time when she wasn't there.
There were so many striking images and moments in the period from the Queen's death, up to and including her funeral. The crowds lining the streets through Scotland as the coffin drove from Balmoral to Edinburgh; a host of state occasions as King Charles visited all four nations in about as many days; and of course the queue.
At the same time, like with all bereavements, it was the little things that struck you. I saw a photo on Facebook of an order of service for someone who was made a vicar, somewhere, the same evening the Queen died. They found out 10 minutes before they were supposed to start, and after a few phone calls they went ahead. The photo showed the text where the vicar promises allegiance to the monarch. "Queen Elizabeth II" had hurriedly been crossed out, and "King Charles" written in blue biro. Then someone must have realised that wasn't enough, and had added "III", this time in red.
It doesn't surprise me at all that I have had a lot more conversations about life and death in the last couple of weeks than I normally do. Times like this confront us with our own mortality, and they're meant to, I think. They're meant to make us look at our lives and ask ourselves what we want to be remembered for. There's no point wishing we could all be the Queen, and hope to do great things, but we can all do small things with great love. Actually, the best stories about the Queen haven't at all been grand gestures; people have been remembering her little interactions with them, and how much her care and attention meant.
But more than what it means to live this life as well as we can, the Queen has pointed us beyond it. Christmas after Christmas she reminded us that God had come into the world; that Jesus was in our midst, and that eternal hope was within reach for all of us. In her wonderful Easter message in the early pandemic, she reminded us all that "As dark as death can be — particularly for those suffering with grief — light and life are greater. May the living flame of the Easter hope be a steady guide as we face the future."
The Queen's extraordinary funeral service, which may have reached over 4 billion people across the world, spoke beautifully of the eternal hope that we have because of Jesus. The Archbishop of Canterbury drew on that same Easter message as he followed the Queen in quoting Vera Lynn, reminding us that when we believe in Jesus we can be sure that we'll meet again. It means that there is a time when we will be with the Queen again, but more than that, a time when we will be with Jesus; and like the Queen, will cast our crowns before the Lord of Lords and the King of Kings.
Back to top of page