Rob's message for May
Posted: Tue, 4 May, 2021 (7 months ago) - by Rob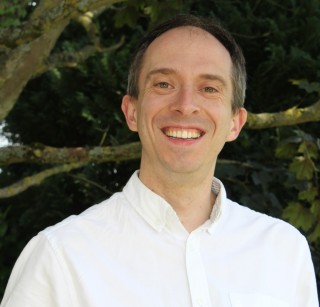 Like many of you, I stopped for a while on 17th April and watched the footage from Windsor of the Duke of Edinburgh's funeral. I know, like me, lots of you are still praying for the Queen and all her family. Like all these national occasions there was a huge amount of ceremony, and many people involved, but in the end, as for so many families through the pandemic, it was just 30 people spread through the space. Most striking of all, for me at least, was the walk through the castle grounds, with Prince Philip's coffin followed by his children and grandsons, walking mostly in pairs. Two, by two, by two they came, brought there by the death of someone they loved.
After Easter we often read the famous story of the Emmaus Road. It's a story of grief experienced as a pair, but with an extraordinary ending. Two of Jesus's disciples are walking; one called Cleopas, and another who goes unnamed. Like lots of us who gather with a friend, in a time of bereavement, as they walk, they talk. As they meet Jesus, not recognising who he is, their faces are downcast. And they say something amazing to him: we had hoped. Jesus has died, and we had hoped…
A year ago, when I last really thought about this story, maybe it was with the idea that we'd be locked down for a month or two and then it would all blow over. Maybe that's what we were hoping. We had hoped. And now a year on, I know lots of people feel a lot more hopeful with the vaccine rollout, but still there is that question of whether somewhere in our hearts, hope is something that belonged to the past. Like the disciples, we want to say "Look, haven't you heard what's been happening? Where have you been? Are you the only person in the world who doesn't know about Covid, and lockdown? We had hoped.
For the disciples, hopelessness is connected with not seeing the risen Jesus. The women have seen him, but the disciples have gone looking and they haven't seen him, yet. I don't know about you, but quite a lot of people I talk to want to see Jesus. That's all my job is, really: helping them to see Jesus.
And when the two disciples do see him, it changes everything. They had been heading away from Jerusalem, and the sadness they connected with it, but on meeting Jesus they rush back, full of hope and purpose. It's an extraordinary turnaround, but it's the sort of thing that happens when people see Jesus. The news that he is alive always brings a turnaround of the most amazing kind.
In our churches this summer we want to find new hope and purpose after a difficult year, and we are going to do that by looking at Jesus – by seeing him. Why don't you join us, whether online, or in person from Sunday 23rd? We'd love to see you as we see Jesus together.
Back to top of page