Rob's message for December
Posted: Wed, 30 Nov, 2022 (6 months ago) - by Rob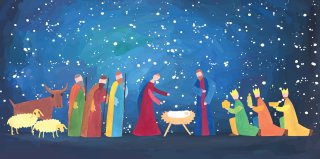 Last week I was with some minister friends I meet up with a few times a year. We catch up and pray for each other, and end up talking about all sorts of different things. This time one of us wondered out loud whether it did anyone any good to be constantly checking the news to see what else might have gone wrong since last time we looked. As a group we're all roughly the same age, and we remembered back to when we were children, when it was pretty tricky to find a news bulletin between breakfast and lunch, or dinner and bedtime.
There are lots of reasons why reading too much news might be a problem, but one of them is probably the news itself! It's difficult to know which came first: did we decide we wanted to hear serious (so mostly bad) news, and so the newspapers printed that sort of thing, or did they decide the bad stuff was good for us, and so that was what they published?
The news stops being good for us when it makes us afraid. Do you look back now, like I do, and wonder how much the constant drip of statistics and reports about Covid made you even more afraid than you needed to be, horrible as the virus is and was?
Some of us in the churches have been thinking and praying about the Christmas story, and noticing the angel's words to the shepherds "not to be afraid, because there is good news." In an age when things have apparently got so bad that the Collins dictionary word of the year is "permacrisis", there is good news, so you don't have to be afraid.
The shepherds were simple people scratching out a living as best they could, but there was good news. Mary and Joseph were a young unmarried couple surrounded by rumour about her pregnancy, but there was good news. The wise men were foreigners receiving an uncertain welcome from the authorities, but there was good news. The whole nation lived under Roman occupation, which might have seemed as permanent as our crisis today, but there was good news.
I love the Emeli Sandé song Read all about it. I listen to it often, because it reminds me that as Christians we have good news to sing and to shout about, but often we are biting our tongue and the nation-changing words don't find their way out. We should be like the angel, daring the papers to print that good news, not being afraid.
This Christmas we want to help you not to be afraid, and to believe in spite of everything that there is good news. We're going to do that by not being afraid to sing and shout about the good news that we have. We're going to find our voices, and give you the chance to hear again about Jesus who has come into the world to bring good news that God is with us, and he loves us. Good news, the angel said, for everyone; good news for you.
Back to top of page