Rob's message for April
Posted: Thu, 1 Apr, 2021 (7 months ago) - by Rob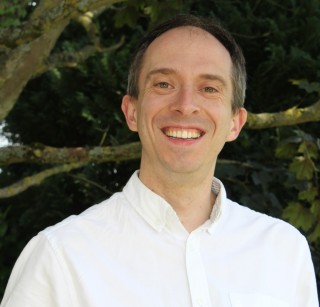 Happy Easter, everyone!
We hope that you are reading this in time for Easter weekend, and all the great things we have planned from Maundy Thursday through to Sunday morning. We hope most of all to create some opportunities to meet together in person for everyone who thinks that's appropriate for them, as we celebrate Easter together. There is loads of information about everything we've got going on on this site and on our Facebook page.
I've spent some time looking over my messages for the last few months, and I noticed that I began 2021 looking forward to the better year that we were all hoping for. I don't know if we quite feel that we are there yet, but the vaccine numbers are increasing, and the balance is tipping a little.
Holding on to hope is so important. For Christmas I was given a little badge with just that word on it: "hope." I have been wearing it for some of our online Sunday services, and quite often at funerals too. It's a little something but it feels good to put it on, and create a little spark of light when things can seem dark.
Other people have noticed that it is an important time to hope as well. We have a lovely children's book, produced this year, called The Book of Hopes. Over 100 famous children's authors and illustrators have made contributions; the editor describes them in the introduction as "professional hunters of hope."
This Easter, none of us in the churches wants to make any claim that we know better than you the answers to a lot of the difficult questions we have all been asking this year. None of us knows better than you how we conjure up hope out of the really tricky and very raw material we have been working with. We don't look at ourselves, or each other; instead, we'd tell you that we think that Jesus brings hope.
The Bible is a Book of Hope, and among the dazzling reasons for hope it contains, one stands over all of them. Peter, Jesus's best friend and as close to the events of the first Easter as anyone was, writes that it is by rising from the dead that Jesus has given us living hope.
Hope in Jesus is living hope. It is hope, Peter goes on to say, that can never spoil, perish or fade. I bet there is not one of you reading this who hasn't seen hope fade this past year. Hasn't seen it spoil, or even perish. That was just 2020, wasn't it? But Jesus rose from the dead, and he is unfading, spotless, imperishable, and so hope in him is living hope that can never die.
Sad to say, I am not one of life's optimists. But actually, I don't need to be, because Jesus's hope is real and alive. It's not so much a badge I pin on, as the thing that I live in, and that lives in me. It does not spoil, or perish, or fade, and I don't need to go hunting for it. It has come to me, and to all of us, in Jesus, our living hope, who has risen from the dead.
Back to top of page