Family fun at the Church Hall
3 months ago
Sun, 27 Feb, 2022, 3:30pm @ Stoke Holy Cross Church Hall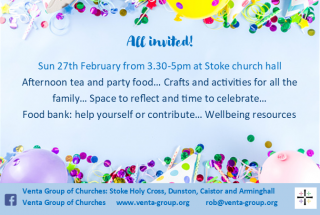 As we come out of the other side of Covid, we're finding ways to re-connect with families, and support others who might not have been in contact with church before. This Sunday 27th from 3.30-5pm, we're beginning by holding an afternoon gathering at the church hall for all ages, with afternoon tea, party food, some prayer activities, well-being resources and time to chat and spend time together. We'll be thinking about the feeding of the 5000 with the message that we're all invited, and that God can give us more than enough in all the different areas of our lives.

If you're a family, please come along and let us know - but please read on, whoever you are! 

We would like to be able to offer a food bank that afternoon, and so we would really appreciate any donations of
dry/tinned foods with a long date,
squash/juice,
toiletries
"treats" like biscuits, crisps, dried fruits etc.
You can drop them to the vicarage this week, or bring them along to church on Sunday morning. 
We would also be very grateful for offers of baking, particularly of scones, so we can give everyone a delicious treat!
 
You are also obviously all very welcome to come along on Sunday afternoon - have a think and pray about who you might invite, too, and bring them along.
 
Let us know if you're able to help in any of those ways, or if you have any questions!
Back to top of page
Contact Cathryn for more details - 01508492305