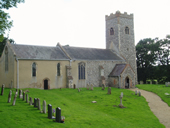 Welcome to the pages for Caistor St Edmund Church!
Here you should find more information about our church, its services and its history. 
We are proud of our church for its Christian mission to our community. When you visit the building you'll notice the simplicity of its architecture, its peaceful environment within the Tas Valley and its place in the history of our village.
Why not visit and join us for one of our services or just take time to enjoy the tranquility of the church and its surrounds. Come expecting to meet with God, as people have here through the centuries. Owing to Covid-19 restrictions the church is currently open only on Wednesdays from 10am and Sundays from 12pm, normally closing no earlier than 4pm. From November 2020 the building will be open from 10-4, again on Wednesdays and Sundays. Please do contact us if you would like to be sure when planning a visit, especially from further away.
If you would like to find out more about the history of the church, the Roman Town, or St Edmund himself, there is more information in the History section on the right. Do email us on rob@venta-group.org for more help.