Rob's message for October
Posted: Mon, 7 Oct, 2019 (8 months ago) - by Rob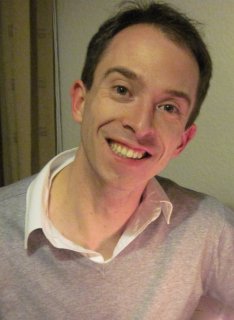 A few things recently have got me thinking again about what it means to see Jesus.
One of them was a story of Jesus healing a blind man. People bring him out to Jesus, pleading with him to touch him. Remarkably, Jesus leads him out of the village, perhaps further than he has gone before, and then rubs saliva on his eyes. He's also not immediately healed; instead, he says he can see people, but they look like trees walking about. Only then, a second time, is he healed as Jesus prays for him.
Then there's another story, which I wasn't sure was true, of a pulpit in the church where the preacher got up to speak, and saw written on a little sign on the inside of it, which only he could read, "We would like to see Jesus." I say I wasn't sure it was true: on the internet there are a whole load of brass plaques just like this, stuck to the inside of pulpits all over the place, so it's certainly caught on in any case.
Both of these stories show us something of what it means to see Jesus. Often in the bible it is something which seems miraculous or dramatic, like a blind person being healed, or a vision of Jesus in heaven in all of his glory. And it is dramatic, and it is miraculous, but it is also something which is happening all over the world all of the time, as people begin to see Jesus for themselves. Often it happens because there are people like the blind man's friends, who bring someone to find out more. Or maybe there is someone like Philip, who is on hand when someone comes and makes an amazing request: 'We want to see Jesus." Those people, by the way, were Greeks, and not the obvious customers for this wandering Jewish preacher, but they found the disciple with the Greek name, who spoke Greek, and made contact through him.
Seeing has also been on my mind because we have been doing some thinking in some of our churches about vision. We have done a little exercise where we try to picture – see – what our churches might be like in a couple of years if the vision God has given us begins to bear fruit. It has been so exciting to reflect what that might be like, and to think what the next steps might be to helping us get from where we are now to this new place which we have seen.
And one of the things this always involves, is more folks from our communities finding faith in Jesus. We want to see more people see Jesus. It might happen suddenly and out of nowhere, like sometimes in the bible. But it's more likely to happen because you let us know that you want to see Jesus, or someone takes you along to him, so he can help you to see. Would you let me know if I can do that for you?
Back to top of page