Caistor Street Party, 20th May 2018
Posted: Thu, 28 Jun, 2018 (7 months ago) - by Rob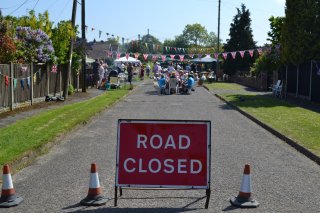 It was an "all age" street party ranging from two to three months old, to some of us where three score years and ten have now become a distant memory and all ages in-between.
Organised jointly by the Parish Council and Church Council and with much help from the residents of South Wood Drive where the party was held.
Soon after 10 o'clock on the Sunday morning  garden chairs and tables began to appear, bunting was being fixed to fences and walls, gazebos being erected  and the sun was shining in a clear blue sky, a perfect day for a street party.
With the BBQ's in place and Simon and George ready for action, people started to arrive at
 about 1 o'clock with sausages and burgers for cooking.  A huge range of cakes had been laid out next to the teas and coffee and these were all looked after by an enthusiastic group of young people, Eliza, Ruby, Ori, Uma, Grace (Woods), Grace (Baker), and Samuel, and with Jonathan looking after the cold drinks.
Various games were being played and Peter provided music to add atmosphere to the proceedings and at one point there was 80+ people all enjoying food and conversation with neighbours and friends.
Thank you to William who was busy with his camera and many photographs were taken some of which are here, more will be on display in the church.
A very big thank you to all who helped in any way and also a big thank you to those of you who supported the party and we hope everyone had a lovely afternoon in the sun.
Back to top of page