Rob's message for July
Posted: Wed, 29 Jun, 2022 (3 days ago) - by Rob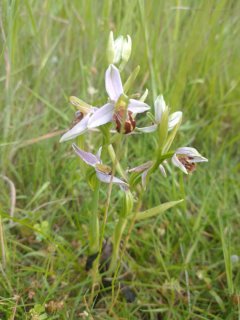 If you were out and about in our churchyards over the last month or so and you thought you saw me on my knees, the chances are that I wasn't either diligently praying or experiencing profound desperation – although those things do often coincide in my experience. It was probably that I'd seen something interesting on the ground and wanted to have a closer look.
It's been very exciting this year especially to watch some bee orchids coming up in the churchyards. I took the picture you can see here the day before I sat down to write this. I find it extraordinary that here is a plant that has managed to make itself look like a bee so that a bee will come along and do what (birds and) bees do and carry off some pollen to the next one. It's an amazing thing. I've seen on Facebook, by the way, that some of you have got these lovely plants coming up in your front lawns as well, which is quite an advert for No Mow May, isn't it?
Whenever I see a properly spectacular flower like this, I'm reminded of Jesus's word to his listeners on the mountain: "Consider how the wild flowers grow," he says. When I read these words I like to imagine that Jesus is looking around at the beauty around him. "Consider how the wild flowers grow. They do not labour or spin. Yet I tell you, not even Solomon in all his splendour was dressed like one of these." It's true, isn't it? No matter how smartly turned out we are, none of us is going to look as amazing as a perfect wild flower. No ironing, no shoe polish, no make-up – just immaculately clothed by the Creator.
Jesus's reason for mentioning this, by the way, is not to get people so interested in the flowers around them that they stop listening to anything that he's got to say. His point is really that if God cares enough about a single flower to dress it that exquisitely, how much more will he provide for us, the crown of all that he has created?
There are so many reasons to worry at the moment. The war in Ukraine is still profoundly troubling, and here at home the cost of almost everything is going up and up and up. I've spoken to some people who are concerned that the autumn might bring an increase in Covid numbers again, and yesterday on the news the talk was of the possibility of a summer of strikes.
But don't worry, Jesus says. Not because we stick our heads in the sand like an ostrich. Nor running round shouting "Don't panic" like a sort of 21st century Corporal Jones. (Cultural references bang up to date there.) Instead, gently but firmly, "Don't worry", because we can be certain that Jesus is alive, that his kingdom is coming, and one day everything will be made new.
Back to top of page