Rob's message for October
Posted: Wed, 27 Sep, 2023 (3 days ago) - by Rob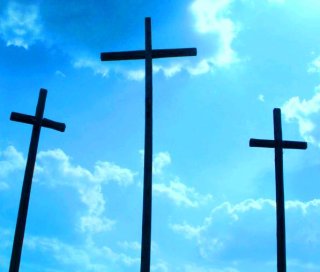 Scrolling down my Facebook feed this morning, I see I am invited to buy train tickets; cook sea bass with cashew, coconut and kale salad; and go to some classical concerts in Montreal. And that's just the first three adverts!
Sometimes, but less often than before, something I see on there really grabs me. Recently it was a little video of a preacher talking about the criminal on the cross. You might remember that two of them were crucified on either side of Jesus. One continued to mock him, but the other stopped him, saying that unlike them, who were being justly punished, Jesus had done no wrong and did not deserve it. He turned to Jesus and asked, "Lord, remember me when you come into your kingdom", and Jesus responded, "Today you will be with me in paradise."
The preacher imagined the scene (not described in the bible) as the criminal arrived at the gates of heaven and met the angel. The angel asks him repeatedly what he is doing there, and he replies each time that he doesn't know. Frustrated, the angel goes to get his supervisor who questions the new arrival further. What does he think of the doctrine of salvation? He's never heard of it. Or of the bible? No idea. Finally, exasperated, the supervisor-angel asks him on what basis he is standing there trying to get into heaven at all, and the criminal replies, "The man on the middle cross told me I could come."
The bigger point that's being made here is that if we wonder what it is that wins us eternal life with God, some of us might hope that it is through doing good – but what is good depends so much on one person's definition, doesn't it? I've always worried what will become of me if God's definition of good enough is someone just ever so slightly better than me. Of course, those of us who call ourselves Christians might say something different, like, "Because I have faith", or "Because I follow Jesus." Now of course faith matters, and so this kind of answer isn't untrue in a way, but there is a better place to start: not with "Because I", but "Because he". Because Jesus. Because the man on the middle cross told me I could come.
(Three crosses photo credit: Józef Kazimierz "Meaglin" Sokołowski)
Back to top of page