Rob's message for July
Posted: Mon, 6 Jul, 2020 (5 days ago) - by Rob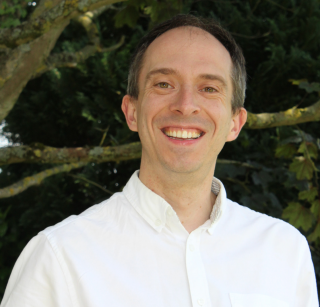 As I write we are in the midst of making plans to open some of the church buildings for people to pray from the beginning of July. There are pages and pages of advice from the Church of England, the government, and all the questions we all have locally about what to do to give people the opportunity to drop in and pray and maybe chat with someone about where God is in all of this. And all the time the news is changing and the advice is changing. It makes everything such a complicated business.
Over the last few months while I have found so much of what is going on really complicated, I have tried to remember three things that I noticed from one of our Easter readings, and which I have been mentioning at most of our online services since. (Do check out elsewhere in this magazine how you can join us on Zoom or Facebook, or give me a ring if you would like to dial in on the phone.)
Uncertain about the reality of the Resurrection (ring any bells for any of you?) Jesus's friends gather in fear of what might happen to them. The religious authorities had arrested Jesus and crucified him; maybe would they come for his friends as well. Twice it says they locked the doors, presumably both times out of fear, though this is only mentioned clearly once.
Fast forward a few weeks, and the disciples again gather in an upper room, anticipating the fulfilment of Jesus's promise: the gift of the Holy Spirit. At that point it describes how they are "constantly in prayer." It has interested me that the disciples seemed to remember to pray here, where before they only resorted to being afraid. In some ways their circumstances hadn't changed, but their mindset had and this was part of the beginning of the Pentecost story. They remembered to pray.
Secondly, there is a need to recognise that Jesus is with us. Twice the disciples lock themselves in a room. Twice Jesus appears to the disciples. To you and me, of course, the idea of someone appearing in a room when they are locked out of it is the stuff of miracles, or at least magic tricks, but for Jesus who was locked in death but broke out of it, locked in a tomb but escaped from it, this is pretty standard stuff! It really does emphasise Jesus's overwhelming desire to be with his disciples, and that they would recognise that he is with them.
Then comes a twist in the story. It was surely unsettling for the disciples to realise that now that they had Jesus back, he was seeming to talk about going away again. But Jesus has a plan, and instructs them in John's gospel to "receive the Holy Spirit." And everything that they do from that point on is empowered by the Spirit of Jesus, who assures the disciples that he is with them always.
So I have been remembering to pray, both myself and in meeting more often with others from our churches, finding a place to bring my anxiety about the future (by which I mean anything that is going to happen from a point about 30 seconds after I stop praying) and to put my trust in God.
I have been recognising that Jesus is with me; if he can rise from the dead, if he can break free from the tomb, if he can get through locked doors, then nothing need be a barrier to him getting to me. Everything that might separate me from him, including the things that I have done, has been put aside at the cross.
And I have been receiving from the Holy Spirit. This morning as we prayed we remembered how at the very end of the bible it says, "Let the one who is thirsty come; and let the one who wishes take the free gift of the water of life." It's not any more complicated than telling God you are thirsty.
Three simple principles that bring us to a place of grace, and faith, and rest. I really recommend them to you.
Back to top of page