Rob's message for August
Posted: Wed, 5 Aug, 2020 (1 month ago) - by Rob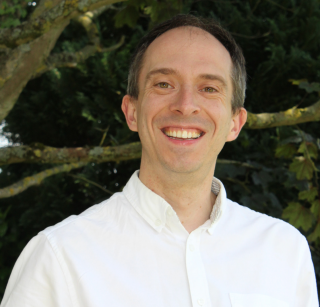 This lockdown time has been an interesting one, hasn't it? As far as I'm aware, there has never been such a long period of restriction on our freedoms, combined with the worry for our own health and for our friends and families.  Now that we're beginning to come out the other side of it, I've been reflecting on how it has affected different people, and what has made it so challenging to so many of us. There have been some positives for most of us, though - getting to know neighbours better, appreciating the quieter roads during daily walks, noticing the wildlife in our gardens that we might have busily rushed past in more normal times... We have worked together to gather up crates and crates of supplies for the food bank, and people in our community have helped each other with shopping, prescriptions and so much more.
But still the overriding experience has been a tricky one, and I wonder if one of the main reasons is that coronavirus has shown us that we can't always be in control of our lives. It has felt like a problem too serious to manage, an "enemy" too big to stand up against, and that has made a lot of us feel small and powerless.
It has reminded me of the story of David and Goliath in the Bible, which some of you might be familiar with. God's people, the Israelites, were used to fighting against other armies, as they moved through contested land. But they weren't used to being faced off by someone so much taller and stronger than any of their own soldiers that they felt doomed to failure! They ended up trapped for days as Goliath stood in their path, not knowing what to do for the best.
You might think that the solution would have been to find the very strongest Israelite soldier to attempt to overpower Goliath. Or to come up with a plan to outwit him, meeting brute force with superior intellect... But it turned out that God's plan was for the smallest and least impressive of all of them to defeat the giant. The shepherd boy David stepped forward with a slingshot and some pebbles, and that was that.
David knew that he was tiny and vulnerable compared to Goliath, but he chose to trust God. He found the strength to do something terrifying, by realising that God was bigger than anyone or anything, giant-like or otherwise. During this time of uncertainty and worry, we have all struggled with having our choices taken away and feeling afraid in different ways. But we can ask God to help us trust him, even if we never have before.
In our house we have been listening to a new children's song about this story, which includes the line "when all I've got is a slingshot, you're the power in me... when I feel little like little David, you're the power in me". If you have felt a bit dwarfed by coronavirus and its effect on our lives, why not ask God to help you trust him and rely on his strength - just like David did.
Back to top of page