Rob's Christmas message
Posted: Sat, 8 Dec, 2018 (4 days ago) - by Rob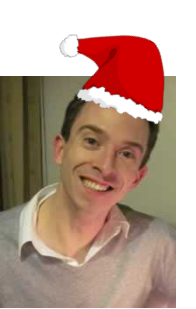 Did you know that researchers have got really interested in the 'Like' button on Facebook? In case you are one of the lucky people who doesn't know what I am talking about, it is a button you can click on if you 'like' what someone has posted. People have been doing some research about it, and have found that not only did Facebook spend ages working out which word they should use to make it most popular for people, but unsurprisingly that we are getting addicted to that nice warm feeling we get when someone clicks to say they like our message. When lots of people click to say they like our message.
There is another button you get on Facebook and Twitter (and others I am sure) which interests me even more. It is called 'Follow'. I don't know quite why you think they chose the word 'Follow', but it is important to me. It is the word that best describes the way I think God calls me to relate to Jesus. When Jesus chose his first disciples, of course they physically followed him from place to place, but they also followed his teaching, and tried to live according to it. They followed what he was doing, and tried to copy it. They followed him to the cross, and the empty tomb, and understood that that was to be the pattern for their lives. Following Jesus was, and is, an exciting and dynamic and lifechanging thing.
And that brings us to this Christmas, and the Christmas card you will have received with this magazine, inviting you to 'Follow the Star'. Like churches all over the country, we are using this phrase to prompt you to think about what following the star to Jesus means. For many of you, that will mean joining us at one of the wonderful Christmas events you can read about in this magazine, in the card, or on our website, but the invitation goes further than that too. This Christmas you might want to do what the first disciples did, and think about what it means to follow and believe in Jesus's teaching; to see what he is doing and try to copy it; to follow him through this life and into the next.
Every Christmas we have so many good things happening around the churches, and there is so much to enjoy and to like. You might even find yourself reflecting that you really like a certain event that we put on. It is easy enough to click on the 'Like' button when you see it advertised on our Facebook page, and you'll make all of us at the churches feel very happy when you do. (And Facebook will notice you doing it, and keep sending you more of our stuff – hooray!) But for some of you this Christmas God is calling you into a deeper and more meaningful relationship than that. He's pointing out that other button. That rather more challenging one. The one that says, 'Follow.'
Back to top of page