Rob's message for January
Posted: Sun, 27 Dec, 2020 (4 weeks ago) - by Rob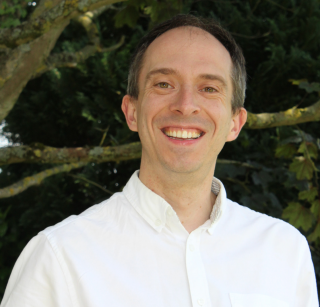 Happy New Year to all of you! After a year which seems to have been full of darkness, with you I am hoping and praying that 2021 will be full of colour and light.
You might have read last month as I wrote about how hard it is to see colour in the dark – about the difference between painting when it is light and when it isn't. It got me thinking about the difficulty that some of us have with colours even when we can see them.
While we talk about "colour blindness", it's not usual that someone can't tell the difference between any colours at all. Normally it is shades of red, yellow and green that are the problem. (Presumably the traffic light joke goes without saying.) I knew that it was more common in men than women, but apparently as many as 1 in 12 men have this trouble. I expect most of them realise before too long.
This New Year, starting on 14th January as you can see from our website here, or the big banner at the Church Hall, we will be running our first online Alpha course. We've done lots before in the churches, but always in person. By doing it online we know we will be safe from Covid-19 complications like changing tier restrictions, quite apart from any risk of infection. But it also means that if you might normally struggle to get out in the evening for any reason, as long as you have the internet you can still join in with us. Perhaps watching something on a screen and chatting about it online afterwards is an easier way to explore faith than with a physical group of people you haven't met before?
So while doing Alpha online is safer for us in a mixture of ways, there is still a risk that you will end up seeing things very differently. You can take my word for this, because about 20 years ago now I did the Alpha course. Through Alpha I came to realise that until then I had believed in Jesus, but I hadn't really thought it was very important. I found out that he had given everything for me, and from then on he meant everything to me as well. It made me want to live for him. This year hasn't been easy for any of us, including all of us who follow Jesus, and being a Christian for me has never been about finding an easy way, but following Jesus brings life and joy and peace: eternal life and joy and peace.
When I discovered all of that, it was like suddenly looking at things in a different way. It was as though I was seeing the world in colours I had never noticed before – had almost been blind to. Everything shone. I could see things in a whole new way.
That's my story of coming to see who Jesus is, but you could have one this year too. Maybe our Alpha course could be the start of you discovering something wonderful in 2021, and it might really be that better year that we have all been hoping for.
Back to top of page