Rob's message for February
Posted: Mon, 1 Feb, 2021 (3 weeks ago) - by Rob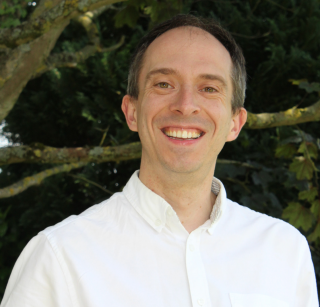 Hello everyone!
Writing to you now it seems like we've had a month of water in our villages and our churches.
It started with the amazing floods on 23rd/24th December; lots of you will have seen the river flooding all the way down through Stoke, Dunston and Caistor. We were sorry to see the damage it caused especially in the Mill car park, but at the same time it created an amazing temporary landscape, with otters swimming in plain view in the middle of the village on Christmas Day, and even running across the Norwich Road – look at the Stoke village Facebook page for both videos.
With the Vicarage so close to the river we look at it a bit nervously, but the slope is so steep it never quite gets up this high. But we didn't escape: when we got to the church building for our Christmas Eve event the water was six inches deep in our boiler house and the power had cut out.
Closer to home, the other day water started to come up through our floor, and even as I write the plumbers are digging up the concrete to try and see where it is coming from.
The Bible talks about water over and over, and the images are similar, but different. One of the Old Testament prophets, Ezekiel, pictures a great flood of water, flowing from the temple, as the glory and presence of God fill it. The further that Ezekiel wades into it, the deeper it gets, until it's so wide he couldn't even swim across it. (I am encouraged by the way he first spots it in one of the doorways, which is just about where it was coming from in our house.)
But this water isn't a destructive force; it brings life. The Dead Sea is made new, and filled with fish; fruit trees grow on its banks and bear fruit constantly because of the water that is flowing by them.
It seems to me that when Jesus and his friends visited the temple for Tabernacles, one of the Jewish festivals, he must have had this image of living water flowing from the temple in mind. But he said something amazing and different; he told his audience that the thirsty should come to him and drink, so that living water would flow not from the temple, nor a leaky Vicarage, but from within each of them.
Your recent experience and mine reminds us of how disruptive water can be in the wrong places, but Jesus wants to satisfy our thirst. Jesus wants us to experience water that brings life: the living water of his Holy Spirit. Jesus's water can be disruptive, actually: it can upset our way of thinking and living, and change things forever, but it always brings life. And look how it flows out, as well. The water you drink when you are thirsty is good for you, but Jesus's living water in you is good for everyone you meet, and it is meant to flow out of you.
We can all receive this water from Jesus today, but we have to see the need. We don't come to Jesus saying we are fine, or managing, or ok in the circumstances, because after all it's hard for everyone. We come saying, I am thirsty. I have learnt, and mostly remember, to come saying that I am thirsty. And so can you.
This article appears in our monthly magazine, which we deliver to every household in the villages we serve, but you can find recent copies in the Resources section of this website too.
Back to top of page